News: Abnormally Attracted To Take On Oslo
Posted by woj on
Friday, May 23, 2014
|
Touring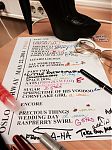 It all started innocently enough tonight at Oslo's Sentrum Scene. Tori opened the show with "Parasol," as she has on each show of the tour so far. "Curtain Call" followed; uncommon but not previously not played. Three songs from the new album, "Trouble's Lament," "Wild Way," and "Forest of Glass," came early in the set — uncharacteristic based on other performances but no one didn't expect songs from the new album to be played more often as both audiences and Tori became accustomed to the new material.
Pretty straight-forward stuff, right? But then everything got really weird.
The Lizard Lounge consisted of A Great Big World's "Say Anything" and, a repeat from Frankfurt, Don Henley's "The Boys of Summer." The latter half of the main set, strung together "Little Earthquakes," "Space Dog," a mash-up of "Abnormally Attracted to Sin" and "Unrepentant Geraldines" (!!!), and "Sugar." The energy of the main set continued into the encore which included "Precious Things," "Raspberry Swirl," and, for the second time ever, a-ha's "Take On Me," to close out the evening. Phew!
The only other time Tori's played "Take On Me?" Oslo in 2011. Whatever it is the Norwegians have, we'll take it!
The full setlist is up in the Tour section. Many thanks to @muskelmaria for tweeting the set our way and to Tori Tumblogger extraordinaire @EarWithFeet for providing extra details as well! We know there's video of the "Abnormally Attracted to Sin"/"Unrepentant Geraldines" combo coming! That and any other media folks care to share will be posted there — along with all your reviews! Please send those in using the form at the bottom of the Oslo page!