News: Here. In My Hamburg
Posted by woj on
Sunday, May 25, 2014
|
Touring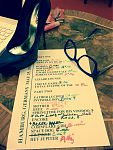 While we didn't have live coverage of tonight's concert in Hamburg, we knew we could depend on the fine folks on Tori's team to post a photo of the setlist after the gig ended and, sure enough, they came through!
Tonight's show featured "Forest of Glass" and "Invisible Boy" from Unrepentant Geraldines, the beloved b-sides "Here. In My Head" and "Honey," and the tour debut of "Father Lucifer." The Lizard Lounge included Joni Mitchell's "Circle Game" and Bonnie Tyler's "Total Eclipse of the Heart" and, to close out the main set, Tori segued "In the Springtime of His Voodoo" into The Beatles' "The Long and Winding Road," presumably as a nod to the city where the Fab Four honed their chops.
Reviews of the shows are always welcome! If you'd like to share your thoughts on the performance, please write up your reaction and send it in using the form at the bottom of the Hamburg page. As we come across videos and photos, we'll be adding them there too.