News: The Rainbow Ends In Brussels, My Dear
Posted by woj on
Thursday, May 29, 2014
|
Touring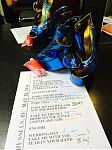 Tonight's concert at Cirque Royal — or Koninklijk Circus, if you prefer — in Brussels, while quite different in tone from two nights ago in Rotterdam, was no less surprising in its contents.
The set included the tour debuts of "Marys of the Sea," "Maybe California," "Home on the Range," "Not the Red Baron," and "Take Me With You," as well as other favorites like "Honey," "Icicle," "Cool on Your Island," and "Father Lucifer." The Lizard Lounge tonight featured Elton John's "Sorry Seems To Be The Hardest Word" and Leonard Cohen's "Famous Blue Raincoat."
The complete setlist, with much gratitude to @C_Tassier who live-tweeted the show, is up in the Tour section. We've already added a few videos from the show, thanks to the efforts of those who were at the show and eschewed sleep to upload them. As more videos surface and pictures are shared, we'll get them added as well.
We'd also love to hear about the show from those that were there. If you were and would like to share a review of the concert, please send one in using the form at the bottom of the Brussels page!