News: Buried With A Butter Bean Bouquet
Posted by woj on
Friday, May 30, 2014
|
Touring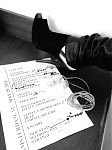 Het Concertgebouw
You are in a large concert hall in Amsterdam. The hall is filled with people attending a performance by Tori Amos. She is on stage sitting between a keyboard and a piano, bathed in light. She has just finished the first song of the concert and the audience is cheering.
> request blood roses
Tori plays "Blood Roses."
And that's probably how the proceedings at tonight's show in Amsterdam may have felt to some.
In addition to "Blood Roses," the set also included three other favorites from Boys for Pele, "Putting The Damage On," "Little Amsterdam," and "Twinkle," the rarely-played Scarlet's Walk b-side "Mountain," and three songs from the new album: "Oysters," "Weatherman," and "Wedding Day." And if that wasn't pleasant enough, the Lizard Lounge featured covers of Madonna's "Frozen" and Don Maclean's "Vincent."
Thanks to the efforts of @ShaoLao and @chilowicz, tonight's set list was updated live on the site and on Twitter — we really appreciate their assistance with that! Some video from the show — including the performance of "Frozen" which we know many were very interested in — has already been added to the page. As always, reviews of the performance are welcome and encouraged! If you'd like to share, just use the form at the bottom of the setlist page and we'll get it added.
Just be careful not to be eaten by a grue.