News: DAS! (June 1, 2014)
Posted by woj on
Sunday, June 01, 2014
|
TV/Radio/Web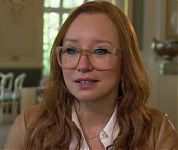 A little appearance was aired on the the German television program DAS! on NDR today.
During the clip, in which Tori is overdubbed, she answers questions about touring, her early years playing music in gay bars, Y Kant Tori Read, and her relationship with the piano. It also includes a bit of video from the Hamburg concert.
The complete 32 minute interview is also available on NDR's website.
Many thanks to fanola for letting us know about this!

Update: The full interview has surfaced on YouTube…