News: In The Spring Becomes The Rome
Posted by woj on
Tuesday, June 03, 2014
|
Touring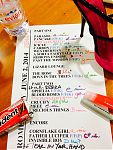 The first of the three straight concerts in Italy on the Unrepentant Geraldines tour took place this evening in Rome. While we weren't able to cover the show as it happened, the set list was sent to us right after the show ended by our buddy Lisa to whom we extend our gratitude!
The show featured the tour debut of "Carbon," the return of "Ophelia" (which was played on the first night of the tour but not since), "Blood Roses," "Father Lucifer," and, during the Lizard Lounge, Bette Midler's "The Rose" and Carly Simon's "Boys in the Trees." "Weatherman" and "Invisible Boy" represented Unrepentant Geraldines in the show. Have a look at the complete set list in the Tour section.
If you were at the show, please consider writing a review using the form at the bottom of the concert's page as we love to hear what you thought of the performance as much as we love to hear what was played! We'll get those posted, as well as any multimedia we stumble on, as quickly as we can!