News: Cream-colored Ponies And Crisp Apple Strudels
Posted by woj on
Saturday, June 07, 2014
|
Touring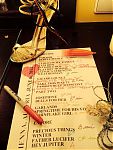 After an afternoon visit to the Bösendorfer showroom, as one does when one is in Vienna (Bösendorfer shared more photos of the visit on Facebook), Tori performed at the Wiener Konzerthaus last night, the first of two consecutive nights in Austria.
The set featured "Purple People," "Playboy Mommy," "Garlands," "Josephine," and the tour debut of the Under the Pink stalwart "Cloud on My Tongue." The Lizard Lounge acknowledged Austris with "My Favorite Things" from The Sound of Music while the other cover was Nirvana's "Smells Like Teen Spirit." (As you can see from the photo of the setlist Tori and team shared, the Lounge was originally to include two Leonard Cohen songs: "Take This Waltz," which would have been a nod to Vienna, and "Famous Blue Raincoat.")
Many thanks to @lenoreva and @dieGamon for sending the setlist our way as it happened so we could do the live-update thang on Twitter! The whole shebang is posted in the Tour section. We've already received a few reviews of the show; if you were there and would like to add your voice, please send one in using the form at the bottom of Vienna page.