News: From The Fading Light She Flies
Posted by woj on
Sunday, June 08, 2014
|
Touring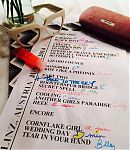 It's not unusual for Tori to select songs, whether originals or covers, that are appropriate for where a concert is taking place. Take "Playboy Mommy" in Birmingham or "My Favorite Things" in Vienna, for example. Likewise, it is not uncommon for her to make a social statement with her song choices as well.
However, her gesture at tonight's concert in Linz may be one of her grandest yet as, with the stage backdrop lit to look like an Austrian flag, Tori performed Conchita Wurst's "Rise Like a Phoenix," the song that, despite criticism from conservative groups that Wurst's selection promoted LGBT rights, brought victory to Austria in this year's Eurovision Song Contest. Reportedly, there was a standing ovation following Tori's performance — we can't wait to see or hear this one!
But that's not all! The rest of the set featured the tour debuts of "Father's Son," "Butterfly," and "Roosterspur Bridge" as well as, opening up the Lizard Lounge, Fleetwood Mac's "Songbird." "Oysters," "Wedding Day," "Secret Spell," "Cooling," and "Another Girl's Paradise" rounded out what sounds like a powerhouse performance!
The full set list, thanks to the mighty efforts of @lenoreva and @TAcollectibles, has been posted in the Tour section. Check it out and, if you were there, please consider posting a review — we'd love to hear what you thought of the show!