News: Through The Hourglass She Saw You
Posted by woj on
Saturday, June 21, 2014
|
Touring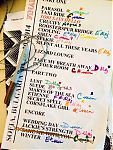 The penultimate concert on the Unrepentant Geraldines Tour's European leg has come and gone with a stop at Sofia's National Palace of Culture — the first time Tori's played in Bulgaria!
The complete setlist has been posted in the Tour section. The show featured the tour debut of "Suede" and, during the Lizard Lounge, Berlin's "Take My Breath Away" and Depeche Mode's "In My Room," the latter which made its second appearance after first making an appearance in Saint Petersburg last weekend! Other notable inclusions in the set were "Cooling," "Siren," "Marys of the Sea," "Etienne," and "Secret Spell."
Video of several songs from the show have already been added to the show's page but we'd love to hear what those at the show thought of it. If you would like to share, please send in a review using the form at the bottom of the show's page.