News: Sounds The Call To Come Together
Posted by woj on
Sunday, June 29, 2014
|
Touring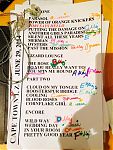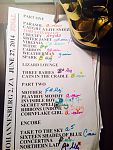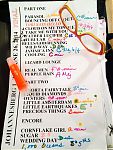 It's been a bit of a rough week here at Undented but despite the lack of recaps, setlists for the three South African shows so far — two in Johannesburg on Thursday and Friday and tonight's performance in Cape Town, the first of two — were posted in the Tour section either as the shows happened or right after they finished.
The two Johannesburg shows were updated in real-time thanks to @andrew_ja, @LindiAtieno, @burgergc, and @RKGraeme while Cape Town was old school, with reports coming in after the show. Thanks go out to @tessann_e and @julieteidelman for posting photos of the Cape Town setlist on Twitter after the show!
Some notable songs from the three shows include "Take Me With You," "Real Men," "Purple Rain," and "Sugar" on the 26th; "Sister Janet," "Carbon," "Spark," Sinead O'Connor's "Three Babies", and Harry Chapin's "Cats in the Cradle," on the 27th; and "Merman," "The Rose," a mash-up of Culture Club's "Do You Really Want To Hurt Me" and Dead or Alive's "You Spin Me Round," "Cooling," and Depeche Mode's "In Your Room," tonight. The complete sets for all three shows are in the Tour section.
Reviews of the shows are welcome! We always love to hear about the show and not just hear what was played — though that is important too! There's a form at the bottom of each show's page which you can use to post your thoughts if you were there and would like to share!
Finally, there's just one more show, on Monday in Cape Town, South Africa to go and then there's a break before the North American leg kicks off. We're hoping to have real-time coverage for tomorrow on Twitter. If you're going and would like to send us the set as it happens, please get in touch! Either @ or DM us on Twitter or you can reach us on Facebook or via the trusty Contact form here. We'd love to close out the first half of the tour with a bang!