News: ¡ʇsɐ˥ ʇ∀ ɐᴉlɐɹʇsn∀
Posted by woj on
Tuesday, November 11, 2014
|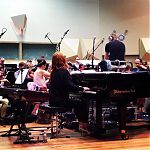 Good morning Australia!
Today's the day! After a two month break the Unrepentant Geraldines Tour picks up again this evening in Australia and it starts off with a bang: a performance with the Sydney Symphony Orchestra at the Sydney Opera House. And, just for fun, she'll do it again on Wednesday night! Not too shabby…
Please note! The word from Tori's crew is that there will not be a meet'n'greet on Tuesday. However, they are planning for one on Wednesday with it taking place sometime in the middle of the afternoon. We're sorry for those hoping to say hi who are unable to make it on Wednesday but, unfortunately, that is what their schedule will allow.
We had been planning on covering the set list live on the Twitter, as we've done for the previous shows on the tour. Unfortunately, we won't be able to for tonight's show and, most likely, most of the tour as well. We will if we can but, with it being in the middle of the night on this side of the world and the pesky matter of real life, it's not looking promising. When we know someone will be live-tweeting the set, we'll be sure to pass the word on though — keep an eye on our Twitter for happenings on that front.
Of course, set lists, reviews and so forth will be posted in the Tour section of the site though so check back there after each show to either post a review or see what others thought of the perforance.
In happier news, Tori's been social media-ing (shhhh, it's a word now) up a storm, posting pictures from around the Opera House and rehearsals with the symphony in all the usual places. We've collected them here for your viewing pleasure because we're nice like that. (And take note of the heels in the photo up at the top of this article — nice to see fashion has its place during rehearsals as well!)