News: Orchestral Maneuvers By The Sea
Posted by woj on
Tuesday, November 11, 2014
|
Touring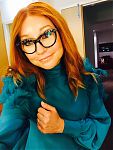 Tonight's performance with the Sydney Symphony Orchestra at the Sydney Opera House is in the books and so, with that, the Australian leg of the Unrepentant Geraldines tour is officially on its way!
Although initially advertised as one set with the Symphony and one solo, the evening turned out to be two sets with the symphony with each half containing a few solo songs, including "Purple People" and "Bells For Her," scattered amongst the orchestral pieces. The complete set list which, unsurprisingly, focused on material from Gold Dust but also included "Baker Baker," "Leather," and, "Edge of the Moon," has been posted in the Tour section.
As always, we'd love to hear from you if you're were in attendance at the show! If you'd like to share with us and the world, please post a review using the a form at the bottom of the set list page.