News: Finlandia Summer
Posted by woj on
Tuesday, June 09, 2015
|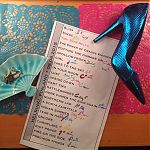 Continuing the Scandinavian hopscotch tour, the first concert of Tori's two-night stand at Helsinki's Finlandia Hall is in the books. Many thanks to @sunjan for live-tweeting the show on Twitter; the complete setlist now has been posted in our Tour section.
Like the show in Denmark, this evening's performance was a full-length concert, tipping the scales at just under two hours in length with one four-song encore. The set featured "Apollo's Frock," "Indian Summer," "Fire On the Side," "Upside Down," and covers of Depeche Mode's "In Your Room" and The Eurythmics' "Here Comes The Rain Again." A little of U2's "Running To Stand Still" also made an appearance within "The Power of Orange Knickers,"
Videos of several songs have already surfaced on YouTube and have been added to the concert's page in the Tour section. We'd love to share reviews from anyone who was at the show; if you'd like to post your thoughts, scroll down to comment form on the concert's page and scribe away!
Tuesday brings us the second show in Helsinki. Looking forward to see what she has in store for those who attend!