News: In the Spring Becomes The Rose
Posted by woj on
Wednesday, June 10, 2015
|
Touring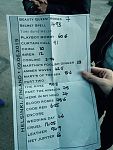 Anyone who was worried that Tori would repeat herself at the second of her two-night stand at Helsinki's Finlandia Hall shouldn't have expended that energy. When all was said and done, there was only one song that was repeated between the two nights (which one, of course, is left as an exercise for the reader and we expect to see the answer on our desk tomorrow morning promptly at 8 o'clock!).
Tonight's set had a decided rosy theme with appearances of "Here. In My Head," "Blood Roses," "Code Red," and a cover of "The Rose," made famous by Bette Midler. Other interesting inclusions were "Siren," "Marys of the Sea," "Amber Waves," and "Past the Mission." The complete set, thanks to the efforts of @sunjan and @adora_boy, both of whom live-tweeted the show, is posted in the Tour section. Videos of several songs have already surfaced on YouTube and those have been added there as well.
As always, we welcome your reviews of the show! If you would like to post your thoughts on the concert and performance, just use the comment form at the bottom of the setlist page and we'll get it added to the site as soon as we can!
After these two nights, we have a short respite before the next two shows on this little summer jaunt around Europe. We hope you enjoy a coujple days off before the two Norwegian festival appearances at the end of the week: Norwegian Wood in Oslo on Friday and Bergenfest in Bergen on Saturday. Stay tuned!