News: Isn't It Good, Norwegian Wood
Posted by woj on
Saturday, June 13, 2015
|
Touring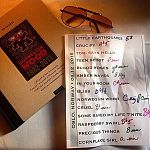 Earlier tonight, Tori performed at the Norwegian Wood Festival in Oslo, Norway. Her festival-length show was the middle-part of three woman bill, nestled in between Rae Morris and Patti Smith — not a bad evening of music by any measure!
Tori's set kicked off with "Little Earthqualkes" and included the hits such as "Precious Things" and "Cornflake Girl," as well as a number of covers: Nirvana's "Smells Like Teen Spirit," Depeche Mode's "In Your Room," Elton John's "Someone Saved My Life Tonight," and The Beatles' "Norwegian Wood," the festival's namesake. Guess she couldn't resist the temptation…but then, neither could we…
With thanks to @MrProgrammable who live-tweeted the show, the complete setlist is up in the Tour section. Your reviews, photos, and videos are always welcome!
Saturday brings us to the other Norwegian music festival this weekend: Bergenfest! Tune back in tomorrow to see how the last show of the first half of this summer's dates pans out. After that, there are no shows until the first week of August.