News: My Posse Can Drink
Posted by Violet on
Thursday, May 03, 2007
|
Cherries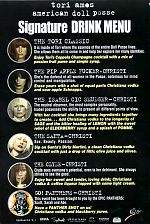 When you let five girls loose in the big city for a night out on the town, you know there are gonna be girly drinks involved. That's just how it is.
And so it came to pass at the American Doll Posse release party in New York City on Tuesday night. Franco managed to make off with one of the Signature Drink Menus from the event and scanned it for us. (And we wouldn't be surprised if he's off trying to re-create some of these for himself at home right now. They sound yummy!)
We especially love how the "The Pip Apple Pucker-Christi" looks like it says "The Pip Apple Fucker-Christi." We'll have four of those, please.