Support Undented!
Twitter & Facebook
Keep an eye on our Twitter and Facebook pages since we often post quickie updates there when we're on-the-go.
During tours, we do our best to cover setlists in real-time on Twitter. If you want to tweet a show in, just DM or @ us on the day and tell us to watch your stream that night.


Calendar
Tour Status
Tori is touring in 2017 to support the release of Native Invader. The European legs runs from early September through early October and the North American leg runs from late October to early December. We do not know if additional dates elsewhere will be added.
Other News Sources
Current Release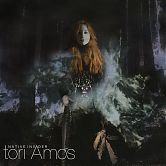 Native Invader (album, 2017)

Recent Releases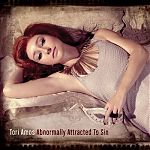 Abnormally Attracted To Sin (album, 2009)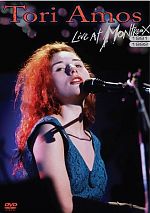 Live at Montreux 1991/1992 (DVD, 2008)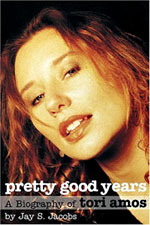 Pretty Good Years
(bio, 2006)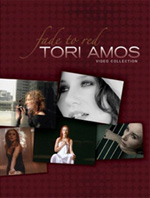 Fade To Red
(DVD, 2006)

Cherries On Top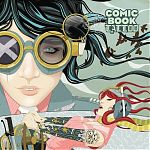 Comic Book Tattoo (book, 2008)

Tori Amos News
Be sure to check out our other sections, Tour — where setlists and other concert-related material will be updated daily while Tori is on tour — and You. Lots of interesting stuff!
There is a concert review of Singaporean singer Stefanie Sun that appeared in the May 10, 2006 edition of The Star newspaper in Malaysia. Stefanie Sun performed on Saturday, May 6, 2006 at the Arena of Stars in Genting Highlands, Malaysia and at one point during the show did a cover of Silent All These Years that really impressed the reviewer, Michael Cheang.
Slouched almost lazily on an armchair on stage with the lighting leaving her half shrouded in darkness, Sun managed to deliver the song with almost the same dark poignancy as Amos herself. And it was actually one of the best covers of the song that I have heard.
Visit star-ecentral.com to read the entire review. Thanks to Amy for sending this in!
Actress Cady McClain, who plays "Dixie" on All My Children, has written an entry titled The Power Of Orange Knickers (Tori Amos) in her Confessions of a Mad Soap Star journal:
Soap operas are a tough business. These last few weeks I have been asked, "how do you put yourself back together after a scene like that?" Honestly, it is not easy. I usually go have a stiff drink and try to get home and go to sleep quickly. Other times, it's not so easy. It lives with me for days, stirring up my own crap, and takes its rather expensive toll.
So what do I do to get on with the business of living? I listen to music, I go see art, I lay in the sun, if I can, which is very healing. I think about roller skating, knishes, tattoos, and New Orleans. I try to soak up other people's good energy by means of their work, like listening to Miss Tori, when it is available, and when it isn't, I think about how nice a kitty can feel when she's feeling friendly, and I give mine a good cuddle.
Until the little bitch bites me.
We hate it when that happens.
Visit Cady's journal to read the full entry. (Thanks to Marcus Frank for passing this on.)
We want to thank you all so much for the kind words you've been sending our way. It has been an intensely nerve-wracking last few weeks, trying to get this site off the ground in such a short period of time.
Friday, May 12, 2006 | 21:20 UTC
| Posted by
Violet
|
Site News
,
Toriphiles
A highly reliable source tells us that EWF should be sure to check everythingtori.com for updates BEFORE checking toriamos.com. Everything Tori is updated more frequently and will sometimes have news that Toriamos.com doesn't.
We have placed Everything Tori at the top of our "Other News Sources" link list to reflect this.
Mike Fisher tells us that in Dean Kootnz's recent [November 2005] novel, Forever Odd, one of the main characters is named "Datura." There are many references to killer and crazy plants (Brugmansia, etc.) and they are used as metaphors to describe the psychotic, spiritual, and dual nature of that character.
James Patterson's characters have listened to Tori's music in his novels; is Koontz beginning to slip Tori references into his? Could be. At any rate, it sounds like an interesting read.
I wanted to point out to folks who are interested that we do have RSS and Atom syndication feeds available. The links are underneath the search box in the right-hand column.
LiveJournal users might want to know that our RSS feed has been syndicated so you can add the feed to your friends list to easily keep up with Undented there.
Tuesday, May 09, 2006 | 23:15 UTC
| Posted by
Violet
|
Toriphiles
In the Spring (May 2006) issue of Little Blue World fanzine:
A Ginger Feast: LBW's review of the DVD video collection, Fade to Red. Also, two video director spotlights. What have they done, and what are they doing now?
Touring Tori's Wardrobe: The conclusion to LBW's two-part series on Tori's fashions.
The Evolution of the Harpsichord: Part 2 of LBW's in-depth look at the old-fashioned instrument Tori brought into her repertoire with BfP.
Tapping Into It All: LBW's exclusive interview with singer Charlotte Martin.
The Summer of Original Sinsuality, Part 2: The conclusion of a fan's story of how she found Tori, halfway around the world from home.
... and much more!
For subscription info, visit the Little Blue World website.

A tribute album inspired by the work of Neil Gaiman will be released on July 18, 2006. Titled Where's Neil When You Need Him?, it will feature original songs by a variety of artists. Tori's contribution is a newly-remastered version of Sister Named Desire.
While the official release date is July 18th, Dancing Ferret will be shipping pre-orders on July 5th.
View details of the album along with a full track listing at the Dancing Ferret Discs website.
RAINN will be launching the National Sexual Assault Online Hotline in the 3rd quarter of 2006. This hotline will provide live, anonymous, secure crisis support 24 hours a day to victims of sexual assault and their families and friends.
Welcome, welcome! My name is Violet, and I am so happy to have you here and to be organizing this site for the Tori Amos community.
This is a bittersweet thing for me. Mikewhy has been a dear friend of mine for many years and, like you, I am heart-broken about the Dent retiring. I'll admit it, I got misty-eyed when he told me and felt sick to my stomach for days. But the good news is that the Dent will remain archived on the server indefinitely (meaning "as close to forever as we can possibly manage") and Mike will be working as one of Undented's managing editors, so he'll never be far away.