Tori Amos News
Be sure to check out our other sections, Tour — where setlists and other concert-related material will be updated daily while Tori is on tour — and You. Lots of interesting stuff!
There are always stories you hear from people that make you see life in a different way. You don't think about certain ideas until somebody tells you — or you did think about them but forgot about them, perhaps because you chose to forget. I'm in a blissful state. I forget most things. Why do you think I keep touring so much? I can forget the pain!
Stephen Deusner interviewed Tori while she was in Berlin in early April and the resulting article appeared on Salon.com this evening. Their conversation ranged over some of the usual ground — the album, art, and age — but Tori seems to have a frankness about her here that is often softened somewhat in other interviews. Good reading for the weekend!
Earlier this month, on May 16th to be precise, Neil Gaiman appeared at The British Library as part of their Comics Unmasked exhibition to talk about his work, influences, and passions. Tori joined in the conversation, which was moderated by the guest curators of the exhibition, John Harris Dunning and Paul Gravett.
Fan video of the conversation has been spotted in the wild but The British Library has now posted their professional film of the event on Youtube. Check it out below!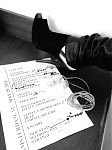 Het Concertgebouw
You are in a large concert hall in Amsterdam. The hall is filled with people attending a performance by Tori Amos. She is on stage sitting between a keyboard and a piano, bathed in light. She has just finished the first song of the concert and the audience is cheering.
> request blood roses
Tori plays "Blood Roses."
And that's probably how the proceedings at tonight's show in Amsterdam may have felt to some.
In addition to "Blood Roses," the set also included three other favorites from Boys for Pele, "Putting The Damage On," "Little Amsterdam," and "Twinkle," the rarely-played Scarlet's Walk b-side "Mountain," and three songs from the new album: "Oysters," "Weatherman," and "Wedding Day." And if that wasn't pleasant enough, the Lizard Lounge featured covers of Madonna's "Frozen" and Don Maclean's "Vincent."
Thanks to the efforts of @ShaoLao and @chilowicz, tonight's set list was updated live on the site and on Twitter — we really appreciate their assistance with that! Some video from the show — including the performance of "Frozen" which we know many were very interested in — has already been added to the page. As always, reviews of the performance are welcome and encouraged! If you'd like to share, just use the form at the bottom of the setlist page and we'll get it added.
Just be careful not to be eaten by a grue.
Thursday, May 29, 2014 | 03:57 UTC
| Posted by
woj
|
TV/Radio/Web
,
Video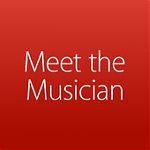 On the afternoon of May 20th, the day of the at Berlin's Tempdrom, Tori appeared at the Kurfürstendamm Apple Store to discuss Unrepentant Geraldines in front of a live audience. In addition to discussing the record with moderator Johnny Haeusler, she fielded a number of questions from audience members as well.
The complete interview is available as a free video download as the latest episode of the Meet the Musician podcast on iTunes.
The appearance has also been uploaded to Youtube (of course) so if you do not use iTunes, you can watch is here too: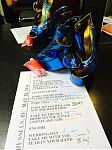 Tonight's concert at Cirque Royal — or Koninklijk Circus, if you prefer — in Brussels, while quite different in tone from two nights ago in Rotterdam, was no less surprising in its contents.
The set included the tour debuts of "Marys of the Sea," "Maybe California," "Home on the Range," "Not the Red Baron," and "Take Me With You," as well as other favorites like "Honey," "Icicle," "Cool on Your Island," and "Father Lucifer." The Lizard Lounge tonight featured Elton John's "Sorry Seems To Be The Hardest Word" and Leonard Cohen's "Famous Blue Raincoat."
The complete setlist, with much gratitude to @C_Tassier who live-tweeted the show, is up in the Tour section. We've already added a few videos from the show, thanks to the efforts of those who were at the show and eschewed sleep to upload them. As more videos surface and pictures are shared, we'll get them added as well.
We'd also love to hear about the show from those that were there. If you were and would like to share a review of the concert, please send one in using the form at the bottom of the Brussels page!
After some tantilizing photos from the set and an all-too-brief teaser during an interview on BBC Breakfast, the video for Trouble's Lament has finally been revealed on Entertainment Weekly!
Sit back with some coffee (or perhaps something a little stronger) and watch the tale of Trouble and Satan unfold…
Wednesday, May 28, 2014 | 01:58 UTC
| Posted by
woj
|
TV/Radio/Web
Tori was on the television program Go' Morgen Danmark on TV2 on Saturday, May 24th to promote that evening's concert in Copenhagen. There was a brief interview segment first followed by a performance of "Trouble's Lament" later in the show.
Check them out below through the wondrous magic of Youtube! Thanks to Mads Grimstad for uploading those videos!
Wednesday, May 28, 2014 | 01:58 UTC
| Posted by
woj
|
TV/Radio/Web
While in Oslo at the end this past week, Tori swung by Norwegian public radio NRK and appeared on two programs. Both are available for listening on-demand though November so you have no excuse if you miss 'em now.
First, she was the special guest on the NRK P13 program Siri & Co. (warning! auto-plays!) on Thursday, May 22nd with the first half of the two hour program devoted entirely to Tori and her music. There was no live performances but lots of interesting conversation and songs covering her entire career, as well as discussion of her inspiration and artistry.
Second, on Friday, June 23rd, a brief interview with Tori was included during the NRK P2 program Spillerom (warning! auto-plays!). The clip includes discussion of anger in her art, the use of humor in "Giant's Rolling Pin," the song "Promise," and the mythology of selkies. Again, there is no live performance but the entirety of "Selkie" was played as well as clips of the two other songs discussed.
Thanks to EarWithFeet and Kirsti for the tips about these two radio spots!
Wednesday, May 28, 2014 | 01:58 UTC
| Posted by
woj
|
Toriphiles
Attention Tori-loving night owls of New York City! Need something to do this coming Friday? Well, look no further than cOver the Pink, a celebration of Under the Pink's 20th birthday brought to you by a place both wonderful and strange and Mixtape Media LLC.
The evening, which is a benefit for RAINN, will include live performances of songs from Under the Pink by a cadre of New York-based performers based by The Wrong Band with an all-Tori remix dance party deejayed by Matt Heart Spade to follow.
It all goes down at Glasslands Gallery in Brooklyn on Friday, May 30th at 11:30 PM. Tickets are $5 and on sale now via Ticketfly. For more information, check out the Facebook page for the show.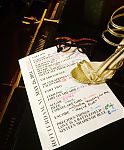 Two songs into tonight's concert at de Doelen, Tori said to the audience that she had a lot of surprises for them and that more than turned out to the be the case — and then some!
Thanks to the efforts of @WhyNotCallMeRoe and @borinisuarez, we were able to follow along tonight's set which featured the tour debuts of "Concertina," "Don't Make Me Come To Vegas," "Digital Ghost," and that old Y Kant Tori Read chestnut, "Fire on the Side." And if playing a song from the so-called pop flop album for only the second time ever wasn't enough of a surprise, the Lizard Lounge featured a cover of Fleetwood Mac's Rumours-era b-side "Silver Springs" (happy birthday Stevie!) and the encore featured another first-time cover: Pat Benetar's "Love is a Battlefield." The remaining cover of the Lounge was Bruce Springsteen's "I'm On Fire." Srsly.
Perhaps more so than usual, we'd love to hear what those at this show thought of the performance. If you would like to share a review of the show, please do so using the form a tthe bottom of the Rotterdam page. As videos and photos surface or are sent our way, we'll get them added there too.