News: Don't Make Me Come To Rotterdam!
Posted by woj on
Monday, May 26, 2014
|
Touring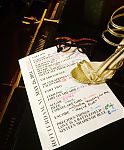 Two songs into tonight's concert at de Doelen, Tori said to the audience that she had a lot of surprises for them and that more than turned out to the be the case — and then some!
Thanks to the efforts of @WhyNotCallMeRoe and @borinisuarez, we were able to follow along tonight's set which featured the tour debuts of "Concertina," "Don't Make Me Come To Vegas," "Digital Ghost," and that old Y Kant Tori Read chestnut, "Fire on the Side." And if playing a song from the so-called pop flop album for only the second time ever wasn't enough of a surprise, the Lizard Lounge featured a cover of Fleetwood Mac's Rumours-era b-side "Silver Springs" (happy birthday Stevie!) and the encore featured another first-time cover: Pat Benetar's "Love is a Battlefield." The remaining cover of the Lounge was Bruce Springsteen's "I'm On Fire." Srsly.
Perhaps more so than usual, we'd love to hear what those at this show thought of the performance. If you would like to share a review of the show, please do so using the form a tthe bottom of the Rotterdam page. As videos and photos surface or are sent our way, we'll get them added there too.