News: Mother Superior Drop The Mic
Posted by woj on
Tuesday, June 10, 2014
|
Touring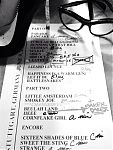 We weren't able to locate a reporter for tonight's concert in Stuttgart so we didn't find out what was played until after the show when set list photos from Tori's team and others at the show started to surface. Once it did though, it was clear that any set list junkies would have been very pleased to be at this show!
The set included several tour debuts: "God" (with the "Tubular Bells" intro and Kate Bush's "Running Up That Hill mashed into it), "Merman," the first solo performance of "Smokey Joe," "Beulah Land," and, during the encore, "Sweet the Sting." Fan favorites like "Pancake," "Little Amsterdam," and "Mother" also made appearances.
However, the most striking song played was The Beatles' "Happiness Is A Warm Gun," a song that, despite having recorded it for Strange Little Girls, she's never played before! It was performed back-to-back with "Let It Be" to open the Lizard Lounge. The other cover during the Lounge was Lloyd Cole and the Commotions' "Rattlesnakes."
The complete set list is up in the Tour section. Needless to say, we'd love to hear what this show was like — if you were there and would like, please share your impression of the evening using the form at the bottom of that page. We'll also get any photos and videos added there yadda yadda yadda.