News: Castles Are Burning In My Heart
Posted by woj on
Saturday, June 06, 2015
|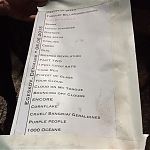 One week ago and on the other side of the continent, Tori had just finished performing at Primavera Sound on the southern shores of Europe for crowds of thousands. Tonight she held a concert in the garden of a Danish castle for just over a thousand people. No contrast there at all!
Thanks to the efforts of @muskelmaria, we were able to update the setlist in real-time. Somewhat unsurprisingly given the non-festival setting, tonight's concert diverged quite a bit from what was played in Barcelona. Featuring "Spark," "Oysters," "Forest of Glass," and "Girl," the set also included a cover of Donna Summer's "I Feel Love" with a bit of the chorus from "Abnormally Attracted to Sin" tossed in for good measure! The complete setlist is up in the tour section if you want to take a peek. Thanks, also, to Lisa for sending us a photo of the printed setlist.
We'd love to hear from anyone who was in attendance! If you'd like to share your thoughts on the performance, you can send a review in using the comment form at the bottom of the setlist page.
The rest of the week sees the continuation of the summer's "Scandinavian swing" with concerts in Helsinki on Monday and Tuesday and festival shows in Norway on Friday and Saturday. Looking forward to those too!