Tori Amos News
Be sure to check out our other sections, Tour — where setlists and other concert-related material will be updated daily while Tori is on tour — and You. Lots of interesting stuff!
Matt Chamberlain has updated his website again and says that he has completed tracking Tori's new record:
Hello—-just finished tracking the new Tori Amos record out in Cornwall England. It was a really fun and intense 3 weeks of non-stop playing, eating, playing, sleeping and playing. All I can say it that it rocks! I was really excited to put my new Ludwig drums to the test and they definitely sounded really focused, subsonic, full with a nice woody tone. I tracked a few songs with some 60's era ludwigs, some random Slingerland Radio Kings and the old trusty roundbage Gretsch kit from the 40's really helped on a few tracks. I also really got into using Ableton Live software quite a bit which I think it probably one of the most innovative and intuitive things out there for making long-form audio/electronic loops and phrases.
Thanks to Jenny for bringing this to our attention!
The 2007 Tori Amos RAINN Benefit Calendar is now available for purchase from the RAINN store. The limited-edition calendar features original artwork by artists Rick Berry, Michelle Chang, Echo Chernik, Dave Dorman, Michael Dringenberg, Matt Hughes, Petar Meseldzija, Ken Meyer, Jr., Christopher Moeller, C.F. Payne, Joe Jusko, Herb Leonhard, David Mack, and Mark Summers and a special, full-size centerfold tour poster by Bob Masse. All artists have donated their work to this project to ensure that all of the calendar's proceeds directly benefit RAINN.
UPDATE: The calendar is also available from The Tori Store.
RAINN has announced that it will hold its first ever Art & Poetry Contest in celebration of its 12th anniversary and Tori will be its judge. Tori will select the two winners of the contest, one for art and one for poetry. The winners will be featured on a special-edition t-shirt that will be available in the Fall. Entrants must submit a completed entry form with their art or poetry and a $50 entry fee by August 22nd. The guidelines for the contest are at the link above as well as included with the entry form available from RAINN as a PDF.
Saturday, July 01, 2006 | 15:21 UTC
| Posted by
woj
|
TV/Radio/Web
Coralann's TIVO reports—and A&E's website confirms—that Tori will be on Breakfast With the Arts on Sunday, July 2nd. The program is on A&E and is shown at 8 AM Eastern / 7 AM Central. While A&E's website does not specifically say that this is a repeat of the appearance Tori made on this program in March of 2005, RockOnTV indicates that is the case. Check your local listings for channel and time in your area. Thanks also to Carl for letting us know about this!
UPDATE: The Los Angeles Times calendarlive.com implies that this might be a new appearance:
Red-headed stranger: Singer-songwriter Tori Amos is profiled on a new edition of "Breakfast With the Arts" (8 a.m. Sunday, A&E).
While I think we would have heard something official if it was, it doesn't hurt to rev up those DVRs, DVD recorders and, in my case anyway, VHS decks just in case.
Amazon.com and Barnes & Noble have both added audio clips to their listings for Where's Neil When You Need Him?. So, we can now hear the first 30 seconds of the remastered version of "Sister Named Desire". In addition, Amazon.com has also added a blurb from Neil about the compilation.
According to Led Zeppelin fansite Tight But Loose (scroll to the June 24, 2006 entry), Tori is one of several performers who have contributed commentary to Nine Lives, a boxed set collecting remasters of all of Robert Plant's albums. The tenth disc in the box is a DVD, where Tori's comments appear. The set is slated for a September 12th release on Rhino Records.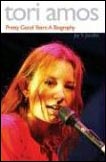 Amazon Germany is showing an alternate cover for the Pretty Good Years biography than other sites.
(Thanks to timmie for letting us know about this.)
Several people have asked us if the A Piano: The Collection boxed set is the "new album" Tori was reported to be working on.
No, it is not.
A new album is currently in the works; we expect it will be released sometime in early 2007 with a tour following shortly after.
Following up on the previous item we posted about an upcoming rarities box set, Undented has received a copy of the press release containing details of the set. A PIANO: THE COLLECTION, will be a five-disc, career-spanning box set consisting of classics, rarities, demos, B-sides and unreleased tracks. And yes, indeed, very exciting news for Toriphiles … Tori will finally introduce us to five very special songs: "Not David Bowie," "Zero Point," "Peeping Tommi," "Ode To My Clothes" and "Dolphin Song."
The next issue of Marvel Spotlight, a Marvel Comics publication, focusses on Neil Gaiman and Salvador Larroca and contains an interview with Tori.
In addition to speaking with Neil at length about The Eternals, Neil's current project for Marvel, editor and lead writer, John Rhett Thomas, had a long chat with Tori about her relationship with Neil and their history together as friends and artistic comrades. The Tori interview is about six pages long and contains some info about the upcoming Neil tribute CD. John even managed to sneak in a pic of Tori on the cover.
This issue hits comic shops on Wednesday, June 28, and newsstand outlets like Borders about three weeks later. Anyone who wants to reserve a copy (because it's Neil, it's expected to sell out pretty quickly) can try ordering from Tales of Wonder.
(Much thanks to John Rhett Thomas and elasia for telling us about this.)