Tori Amos News
Be sure to check out our other sections, Tour — where setlists and other concert-related material will be updated daily while Tori is on tour — and You. Lots of interesting stuff!
Update: Another day, another date! This time, it's not a festival appearance but rather a performance at Helsinki's Finlandia Hall on June 8th. Tickets go on sale via Lippupalvelu on January 28th at 9:00 AM local time. Live Nation also lists the show so tickets may be sold there or they may just refer one to Lippupalvelu to purchase when the time comes.
Update: Festivals it is! At least so far. Today, it was announced that Tori will be playing Norwegian Wood in Oslo, Norway on Friday, June 12th (same day at Patti Smith!) and Bergenfest in Bergen, Norway on Saturday, June 13th in the headline slot. Tickets – both full festival and day passes – are already on sale for both via Ticketmaster. Check each festival's website for more details!
Note that both festival websites, in their artist descriptions for Tori, indicate that these are part of a five show solo tour so there are three more dates left to surface…
So the Undented Dork Posse was snuggled in our Winter den (sorry, we're Northern Hemispheric folks), watching, as work on the cast recording of The Light Princess progresses, photos of Tori and various cast members stream by on the social media when we were startled awake by the announcement today that Tori will be playing some "special European shows this summer!"
Our brains start racing, naturally. Festival shows? Theatre shows? Something else we haven't guessed yet? Can't say we're surprised given the success of last year's tour and the obvious relish with which she enjoyed performing but, alas, we don't know any more than anyone else at this point.
Needless to say, we'll be keeping an eye, as that update (which is mirrored on ToriAmos.com) on the official Facebook page, waiting for the details to come.
Saturday, November 22, 2014 | 15:00 UTC
| Posted by
woj
|
Toriphiles
,
Touring
Very nearly one year after it was announced, the tour supporting Tori's 2014 release, Unrepentant Geraldines, drew to a close this past week with the last three Australian shows: Perth, an all-request extravaganza in Sydney, and the final performance in Brisbane.
And what a year it has been! The release of an album widely acclaimed as a return to form! A whirlwind of promo from in-stores to in-studios to record shopping jaunts! Over 70 electrifying shows on a tour that crossed Europe, South Africa, North America and Australia! Covers, requests and mashups! An embracing of social media. Secret sonic selfies! Fashionable eye-wear! And the list goes on!
So, now that the tour has drawn to a close and we slide into the year-end holidays, cozying up with YouTubes and bootlegs from the tour, we just wanted to thank you all for following along with us. Whether you texted or tweeted setlists our way, videoed clips from the tour, freaked out with us when we got Züro Pünk'd, freaked out with us when Zero Point's time came, freaked out with us in general, or just quietly sat back and took it all in, we really appreciate you, our fellow Toriphiles and all you do.
P.S. Onwards to The Light Princess album! And, if you can't wait until them for more Tori goodness, keep an eye on Tori Songs as they are nigh unto announcing the results of 2014 Unrepentant Edition of the Top 50 Tori Songs poll!
Saturday, November 15, 2014 | 03:02 UTC
| Posted by
woj
|
Update: Melbourne and Adelaide setlists are posted!
Following a wee break after the two orchestral shows kicking off the Australian leg, the Unrepentant Geraldines tour continues this weekend with shows on Saturday at the Palais Theatre in St. Kilda, Melbourne and at Adelaide's Her Majesty's Theatre on Sunday.
According to the Palais' website, doors for tonight's performance are at 7:30pm, opener Matt Walters, who has the supporting slot for rest of the tour, leads off the evening at 8pm and Tori will take the stage around 8:50pm (hit that link to figure out when that is for you if you're not in Victoria tonight). Her Majesty's Theatre is less specific about times but looks like the music will start at 8pm there too, so expect Tori to be on by 9pm Sunday too.
On the meet'n'greet front, there should be one this afternoon in Melbourne. However, we've gotten confirmation that there will not be time for one to take place on Sunday in Adelaide. If you want to swing by and send in a song request though, Mindi will pop out around 4pm in the afternoon to collect any to pass on to Tori.
Finally, we probably will not be around during the overnight State-side to cover either show this weekend…but fear not! The valiant @onscarletswalk is planning on updating the Melbourne setlist live so keep an eye on his Twitter feed to see what is going on…and if we hear of anyone else doing the same for either show, we'll make sure to mention it on Twitter.
Saturday, November 15, 2014 | 02:55 UTC
| Posted by
woj
|
TV/Radio/Web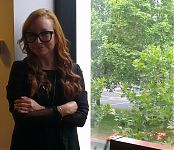 On Friday, November 14th, Tori appeared on the ABC's RN Drive to chat with host Rebecca Huntley about Unrepentant Geraldines, the Australian tour, her detour into the classical world on the last couple records, her daughter's relationship with music and a few other odds and sods.
You can stream or download audio of their conversation, which included clips from a couple songs from the new record (it's still 2014 so it's still new!), there.
Wednesday, November 12, 2014 | 13:24 UTC
| Posted by
woj
|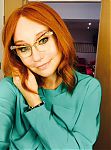 Just quick note about tonight's show in Sydney, the second of two night at the Opera House with the Sydney Symphony Orchestra. The set list, for those who are interested in those things, has been posted in the Tour section. As with last night, there were two sets with the SSO and a few solo songs sprinkled among the orchestral performances. The orchestral songs were the same as the night before, as one would expect, though the order was changed. The solo songs played were all different though: "Concertina," "Twinkle," "Josephine," and "Vicar's Wife" — an interesting choice for the first song from Unrepentant Geraldines to be played live Down Under!
Have a look at the full set and, if you were there and would like to share your thoughts, post a review.
Next show? Melbourne on Saturday!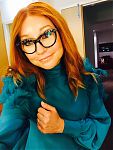 Tonight's performance with the Sydney Symphony Orchestra at the Sydney Opera House is in the books and so, with that, the Australian leg of the Unrepentant Geraldines tour is officially on its way!
Although initially advertised as one set with the Symphony and one solo, the evening turned out to be two sets with the symphony with each half containing a few solo songs, including "Purple People" and "Bells For Her," scattered amongst the orchestral pieces. The complete set list which, unsurprisingly, focused on material from Gold Dust but also included "Baker Baker," "Leather," and, "Edge of the Moon," has been posted in the Tour section.
As always, we'd love to hear from you if you're were in attendance at the show! If you'd like to share with us and the world, please post a review using the a form at the bottom of the set list page.
Tuesday, November 11, 2014 | 00:21 UTC
| Posted by
woj
|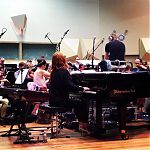 Good morning Australia!
Today's the day! After a two month break the Unrepentant Geraldines Tour picks up again this evening in Australia and it starts off with a bang: a performance with the Sydney Symphony Orchestra at the Sydney Opera House. And, just for fun, she'll do it again on Wednesday night! Not too shabby…
Please note! The word from Tori's crew is that there will not be a meet'n'greet on Tuesday. However, they are planning for one on Wednesday with it taking place sometime in the middle of the afternoon. We're sorry for those hoping to say hi who are unable to make it on Wednesday but, unfortunately, that is what their schedule will allow.
We had been planning on covering the set list live on the Twitter, as we've done for the previous shows on the tour. Unfortunately, we won't be able to for tonight's show and, most likely, most of the tour as well. We will if we can but, with it being in the middle of the night on this side of the world and the pesky matter of real life, it's not looking promising. When we know someone will be live-tweeting the set, we'll be sure to pass the word on though — keep an eye on our Twitter for happenings on that front.
Of course, set lists, reviews and so forth will be posted in the Tour section of the site though so check back there after each show to either post a review or see what others thought of the perforance.
In happier news, Tori's been social media-ing (shhhh, it's a word now) up a storm, posting pictures from around the Opera House and rehearsals with the symphony in all the usual places. We've collected them here for your viewing pleasure because we're nice like that. (And take note of the heels in the photo up at the top of this article — nice to see fashion has its place during rehearsals as well!)
Tuesday, November 11, 2014 | 00:08 UTC
| Posted by
woj
|
The mistake happens when an artist thinks that they're the ones doing a nice thing. We get into this weird arrogance. Instead of saying "this is a gift." These people have waited in line and they're going to bring you something, they're going to bring you a perspective for tonight's show that you need for it to be different. They are bringing you emotional gold and if you understand this then you won't be foolish.
In a brief interview for Time Out Sydney, which is included in their web listings for all three of this month's Sydney stops on the Unrepentant Geraldines Tour's Australian leg, the subject is, unsurprisingly, touring: from her approach to performing to her thoughts on covers and selecting which ones to include in her set but she also touches on the art of the meet and greet and how she was groomed for them by her upbringing.
Thanks mkgtweety for the link!
Monday, October 27, 2014 | 00:16 UTC
| Posted by
woj
|
Live Nation Australia & New Zealand has announced that a third show in Sydney, NSW has been added to Tori's Australian tour next month!
Unlike the two orchestral shows at the Sydney Opera House that kick off the tour, the third show will be a solo performance, taking place at City Recital Hall Angel Place on Thursday, November 20th. Additionally, as described in the release about the performance, it will be an all-request show. Details on how to make a request will be shared on toriamos.com soon.
Update: A form has been added to Tori's website to put in your requests for the solo Sydney show…
There will be a pre-sale for Live Nation members on Wednesday, October 29th starting at Noon AEDT while tickets go on sale to all starting at 10:00 AM AEDT on Friday, October 31st.
Thanks to Mark for the tip about the show being announced!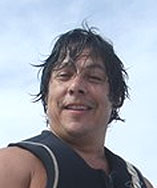 We're sorry to report we've received the very sad news that Tori's bodyguard of many years, Steve Sanchez, passed away on August 7th.
Many of you remember Steve from the tours in the late '90s and early '00s. Constantly by Tori's side, always vigilant, he kept our girl safe across the globe for many years.
We would like to express our heartfelt condolences to all of Steve's family and friends. What a terrible and tragic loss.