Tori Amos News
Be sure to check out our other sections, Tour — where setlists and other concert-related material will be updated daily while Tori is on tour — and You. Lots of interesting stuff!
Well, you can't not do [Conchita Wurst's "Rise Like A Phoenix" and t.A.T.u's "Not Gonna Get Us"] without knowing what it can mean. I mean I'm 50, I'm not completely naive! You can't be coy about it. To play a t.A.T.u. song, a lesbian anthem, in Moscow — you've gotta grab it with both hands, because if you don't, it's not going to work.
In a phoner from Turkey for news.com.au, Tori talked about the upcoming Australian shows, the tour so far, and the intersection of family and music in her life and tells the story of her performance of a t.A.T.u. song in Moscow, including an unexpected punchline about who was on Crocus City Hall's stage the next morning. (Hint: it's ironic!)
Thursday, July 10, 2014 | 01:56 UTC
| Posted by
woj
|
TV/Radio/Web
Coinciding with this morning's announcement about her Australian tour in November, Tori did a couple phone-in interviews for ABC radio stations in Adelaide and Melbourne. First, she spoke with Libbi Gorr on 774 ABC Melbourne's Breakfast and then, on 891 ABC Adelaide's Breakfast, she chatted with Sonya Feldoff.
The former is available online for your streaming pleasure but the latter is not — at least not yet. Hopefully it will be added soon!
ToriAmos.com and Live Nation have announced the long-awaited dates for the Australian leg of the Unrepentant Geraldines Tour!
There are five stops on the swing down under:
November 11 – Sydney Opera House, Sydney with the Sydney Symphony Orchestra!
November 15 – Palais Theatre, Melbourne
November 16 – Her Majesty's Theatre, Adelaide
November 18 – Riverside Theatre @ PCEC, Perth
November 21 – QPAC Concert Hall, Brisbane
Yes, that's right: for the concert in Sydney, Tori will be accompanied by the Sydney Symphony Orchestra, giving Australia a taste of 2012's Gold Dust orchestral performances! Very nifty!
Tickets for all shows go on sale to the general public on Friday, July 18th with dreaded pre-sales taking place for each on Monday, July 14th. Exact times for all sales are listed in LiveNation.co.au and in our Tour section.
Thanks to @sharon and Daniel for the heads up — while we were busy dozing off during the Netherlands/Argentina match.
Update: Jump the cut for Live Nation's announcement about the Australian tour, which they posted on Facebook and on their News page.
Thursday, July 10, 2014 | 00:06 UTC
| Posted by
woj
|
TV/Radio/Web
,
Video
Seems Tori was a busy little vinyl hawk in New York City back in April — though honestly, there aren't too many cities we'd rather flick through the bins in than NYC so who can blame her? In addition to spending some time at Generation Records with Nylon Magazine, she also roamed Rough Trade's aisles with The Guardian, talking about some of her favorite albums for the Vinyl Cut series. Check it out…
Wednesday, July 09, 2014 | 03:01 UTC
| Posted by
woj
|
TV/Radio/Web
As confirmed on the program's website, Tori will be the musical guest on Live with Kelly & Michael on Monday, July 14th. The syndicated program is carried on numerous television stations across the United States — check their station finder to find a station near you that does and what time it is on. Or set those DVRs. Or both.
Thanks to Lindsay for the tip!
By the way, we certainly wouldn't be surprised to see some other television appearances added once the tour is underway. Keep an eye on Sue Trowbridge's Late Night Lineups for guest information for national programs as well as your local listings on the off-chance that some regional appearances occur. If we hear of any, we'll be sure to get the word out.
Tori has donated a pair of tickets to one show on the North American leg of the Unrepentant Geraldines tour and a meet and greet with her for a charity auction benefiting the Sweet Relief Musicians Fund, an organization provides financial assistance to musicians facing illness, disability, or age-related problems.
The auction is being handled through Charitybuzz and closes on Thursday, July 10th at 3:12 PM Eastern Daylight Time. More details, including the form to place a bid if you are so inclined, can be found at Charitybuzz.
Wednesday, July 09, 2014 | 02:35 UTC
| Posted by
woj
|
Articles
,
TV/Radio/Web
This time last week, South Africa, basking in the afterglow of the final show on the Unrepentant Geraldines Tour southern swing, was waving farewell to Tori as North America prepared for the tour to return to its shores and pick up again on the West Coast come mid-July. Between the pleasantries of Independence Day here in the States and the unpleasant intrusion of real life, the site has been a bit dormant so here's a not-so-quick summary of recent happenings to get everyone — particularly ourselves — caught up.
First, a recap of the other things that happened during the South African tour while we were focusing on the live shows themselves.
And, from the non-South-African department…
"Promise" has been announced to be the second single from Unrepentant Geraldines. A video, which features both Tori and Tash, was shot for it in between the European and South African legs of the tour.
Trevor Moss and Hannah-Lou, who opened for most of the European leg of the tour, have been announced as the opening act for the North American leg as well.
Back in April, while the pre-album release promo tour was in New York City, Tori spent some time record shopping with Nylon's Jade Taylor. A couple photos surfaced on Instagram back then…but now the article, which includes a photo gallery of their visit to Generation Records, is on Nylon's website.
Chris Azzopardi interviewed Tori for PrideSource.com, touching on the new record, her career, past and present, and Tori's relationship with the gay community.
Swide's Ben Taylor spoke with about Unrepentant Geraldines, being a parent and the on-going work on The Light Princess cast recording.
Süddeutche Zeitung has a series of articles called "Sagen Sie jetzt nichts" ("Now say nothing") in which personalities are asked questions and they respond wordlessly with expressions or gestures which are photographed. Tori was the subject of this series in the June 27th edition of the magazine answering questions ranging from "Where do you sing the most?" to "What is the first thing you would do if you were a man for a day?"
FaceCulture posted a two-part video interview with Tori that was conducted while she was passing through Holland earlier on the tour.
Alex Macpherson sat down with Tori for The Quietus and ended up looking back at some of the less-discussed songs from her back catalog — though they also took a close look at a couple songs from the new record as well.
Stereogum listed the 10 best Tori Amos songs which SoSoGay countered with the 10 best Tori Amos songs you (probably) haven't heard. Meanwhile, PopMatters decided a better top 10 would be the 10 songs Tori Amos should cover, perhaps in response to Alex Ramon's summary of notable covers thus far on the Unrepentant Geraldines tour which, disappointingly, only includes 9 selections! In any case, once we get enough Tori listicles, we promise to list our ten favorites!
Martijn Tulp interviewed Tori for the July issue of Gay & Night. The article, in which Tori revealed that she'd love to be a judge on RuPaul's Drag Race, is available online via issuu.
Brian Ives, who fleshed out the news of The Light Princess cast recording back in May, had the rest of his interview with Tori for Radio.com published back in the beginning of June. The article also includes video footage from their discussion.
Dan Loughry interviewed for Frontiers magazine.
Bitch Magazine interviewed Tori, discussing the new record and feminism.
Boxx also had a feature interview with Tori during which she summarized the work on The Light Princess and addressed the state of the music industry for women.
Finally, Pop Sugar declares Tori hasn't changed one bit since the 90s. Mmmm hmmmm.
Phew! Thanks to Mike Minanian, mkgtweety, Erin, Scott, choirguy, Lorna, Jennifer, and several anonymous contributors for all the links! We appreciate it!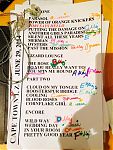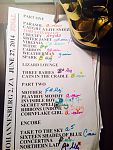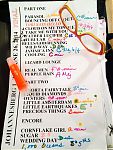 It's been a bit of a rough week here at Undented but despite the lack of recaps, setlists for the three South African shows so far — two in Johannesburg on Thursday and Friday and tonight's performance in Cape Town, the first of two — were posted in the Tour section either as the shows happened or right after they finished.
The two Johannesburg shows were updated in real-time thanks to @andrew_ja, @LindiAtieno, @burgergc, and @RKGraeme while Cape Town was old school, with reports coming in after the show. Thanks go out to @tessann_e and @julieteidelman for posting photos of the Cape Town setlist on Twitter after the show!
Some notable songs from the three shows include "Take Me With You," "Real Men," "Purple Rain," and "Sugar" on the 26th; "Sister Janet," "Carbon," "Spark," Sinead O'Connor's "Three Babies", and Harry Chapin's "Cats in the Cradle," on the 27th; and "Merman," "The Rose," a mash-up of Culture Club's "Do You Really Want To Hurt Me" and Dead or Alive's "You Spin Me Round," "Cooling," and Depeche Mode's "In Your Room," tonight. The complete sets for all three shows are in the Tour section.
Reviews of the shows are welcome! We always love to hear about the show and not just hear what was played — though that is important too! There's a form at the bottom of each show's page which you can use to post your thoughts if you were there and would like to share!
Finally, there's just one more show, on Monday in Cape Town, South Africa to go and then there's a break before the North American leg kicks off. We're hoping to have real-time coverage for tomorrow on Twitter. If you're going and would like to send us the set as it happens, please get in touch! Either @ or DM us on Twitter or you can reach us on Facebook or via the trusty Contact form here. We'd love to close out the first half of the tour with a bang!
Last night at Istanbul's KüçükÇiftlik Park, Tori brought the European leg of the Unrepentant Geraldines Tour to a close in significantly less rainy conditions than four nights earlier in Bucharest at the other open-air venue on the tour.
The set featured three debuts, "Mother Revolution," "Spring Haze," and, during the Lizard Lounge, her version of Depeche Mode's "Enjoy the Silence," played for the first time in eleven years! The set also included "Little Earthquakes," "Forest of Glass," "Liquid Diamonds," "Purple People," and a five-song encore which included "Sugar," and "Riot Poof." The other half of the Lizard Lounge was U2's "Running to Stand Still."
Many thanks to @atagunmert for sending in the setlist while it happened via Twitter! We really appreciate it, as did those who were able to follow along all over the world! The complete set, along with several videos has been posted in the Tour section. If you were at the show and would like to send in a review, we'd certainly be happy to have it on the site — just use the form at the bottom of the Istanbul page to send on in.
Next stop, South Africa! There will be four shows, two in Johannesburg this Thursday and Friday and two in Cape Town on Sunday and Monday! Tune in then to see what Tori does in her second trip to South Africa!