News: Releases
Be sure to check out our other sections, Tour and You. Lots of interesting stuff!
While we spent the day speculating about tour dates, ToriAmos.com was busy getting ready to announce the release of Tori's next album, titled Unrepentant Geraldines, and the European dates on her upcoming 2014 tour:
Tori has announced the release of her brand new album, Unrepentant Geraldines, in spring 2014.
This will be Tori's 14th studio album which will be supported by an extensive world tour starting May 7th, 2014 in Dublin and heading across Europe including shows at London's Royal Albert Hall and dates in Berlin, Paris, Amsterdam, Moscow, Warsaw and other major cities. Dates in the US and the rest of the world will follow later in 2014 and will be confirmed soon.
Note that most of the shows go on sale this week! We'll be getting the Tour section updated as quickly as our fingers will allow with ticket links, etc.!
Update: Jump the cut for the full press release announcing the album and tour!
Congratulations to Tori and Peter Rauhofer for the ascent of Rauhofer's remix of "Flavor" to the top of the Billboard Dance/Club Play chart for the week of March 9th! The remix entered the chart, which is compiled from a sample of DJs are playing in clubs across the United States, 10 weeks ago and has climbed steadily ever since, finally reaching the pinnacle this week.
Of course, this is not uncharted territory for Tori (so to speak) as this is her third song to reach #1 on Dance/Club Play chart. The previous two were remixes of "Professional Widow" in 1996 and "Jackie's Strength" in 1999 so it's been a while but it's great to know that folks are still getting their groove on to Tori's music!
Congratulations and hope this is a harbinger of more success in the future! (Hmmmm, _Light Princess" remix anyone?)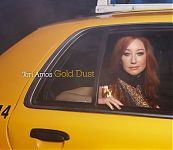 In a somewhat out-of-the-blue development, Gold Dust will be released in Japan by Universal Music on March 6, 2013.
According to the various online retailers which are listing it, the release will be a SHM-CD (Super High Material CD), a compact disc format that is compatible with regular CD player but purported to sound better on playback. More importantly, it will, as is often the case with Japanese releases, include bonus tracks. Specifically, it will include both "Snow Angel" and "Maybe California," previously only available as bonus tracks for the digital download editions of the album on Amazon and iTunes.
The release can be pre-ordered from various Japanese retailers including Amazon, CD Japan, HMV and Tower.
Thanks to Yuta for the news about this release!
News of Peter Rauhofer's "Flavor" remixes has been reported previously but, as ToriAmos.com has announced, an EP containing those remixes is released today digitally at Amazon.com and iTunes. Looks like a worldwide release too as the EP has been listed in nearly all the national Amazon and iTunes stores we've checked so far.
Unfortunately, the preview of the three remixes Peter Rauhofer had posted on Soundcloud a few weeks ago is no longer available, but the Radio Edit of the Club Mix was premiered by Perez Hilton…but you can listen to it here too:
The numbers are in, and Gold Dust debuted at #36 on this week's BBC Top 40 Albums chart, snuggled between Bob Dylan's Tempest and Papa Roach's The Connection. Thanks to @iammatthewwolf for the tip!
DJ/remix artist Peter Rauhofer (formerly known as Club 69 or Size Queen) announced on Facebook that he will be remixing the Gold Dust version of "Flavor." Rauhofer is already pretty well known for is remixes of songs such as Madonna's "Nothing Really Matters" and "4 Minutes," Rihanna's "Don't Stop the Music," Seal's "Killer," and Goldfrapp's "Ooh La La."
It's been almost a year since we first heard about a record celebrating the 20th anniversary of Little Earthquakes and four months since the official announcement about Gold Dust and now, finally, the record is here!
Gold Dust was released in Germany and other parts of Europe on Friday and it hits the shelves in the UK and the rest of Europe on Monday, North America on Tuesday and Australia on Friday.
The album is available in a regular and deluxe edition, with the deluxe edition including a 32-page hardcover booklet and a bonus DVD. The regular and deluxe editions are also available digitally, with iTunes and Amazon each offering a different bonus track with the digital deluxe edition — "Maybe California" at iTunes and "Snow Angel" at Amazon.
So far, there's no sign of a vinyl release for the record, but one never knows…
As mentioned, the album is already out in parts of Europe and Inka, one of the fortunate people in Germany to have already picked up a copy, has sent us photographs of the deluxe edition booklet. Many thanks to her for seeding these over! Enjoy them!
Jump the cut for the rest!
At long last, the digital deluxe edition of Gold Dust has been added to Amazon.com's MP3 Store (it's been on Amazon.co.uk, Amazon.fr and Amazon.de for a little while now) and, as expected, it includes "Snow Angel" as a full-album-only bonus track.
Curiously though, while the British, French and American Amazon stores are all including "Snow Angel" with the digital deluxe edition of the album, the German digital deluxe edition does not. Not sure if this is an oversight or if it is not available there for other reasons though.
However, as a consolation prize, the regular digital edition of Gold Dust is on sale at Amazon.de as part of their Neu für 5€ promotion.
Still no sign of a vinyl release yet…
NME's Lucy Jones chats with Tori about Gold Dust and a host of other topics but, perhaps most interestingly, offers up a full stream of the album. It's for those in the UK only but we're sure an album stream will be made available to other regions before too long…
Update: Gold Dust is now streaming via Paste magazine. Wheeee!
Update: Earlier this afternoon, the streaming widget on Paste's site started having problems. Fortunately, the widget we snagged earlier today and embedded below (the one on the right) still works.
After being in European iTunes stores for over a week, Gold Dust is now available for pre-order in both the regular and deluxe editions at the US iTunes store. As with the deluxe editions listed elsewhere, the US digital deluxe edition on iTunes includes "Maybe California" as an extra track.
Given that, it's looking pretty clear at this point that at least iTunes and Amazon will be offering exclusive tracks with the digital deluxe editions they are selling. Amazon.com has yet to list the digital editions of the album but we expect, once they do, that "Snow Angel" will be included with theirs.
Venerable Boston-based record store Newbury Records was offering their usual special promotion for those pre-ordering the deluxe CD/DVD edition of Gold Dust: signed booklets! Unfortunately, they have sold out of the signed copies, but are still taking pre-orders for the regular and deluxe editions of the album.
In any case, whether you prefer your music physical or digital, ToriAmos.com is running a pre-release sweepstakes to win personally signed copies of the deluxe edition of Gold Dust. To enter the drawing for a chance to win 1 of 20 of these prizes, you'll need to pre-order Gold Dust, upload a screenshot of photo of the order confirmation and fill out the forms at that link above. Unfortuantely, the contest is only open to residents of the lower 48 United States.
Finally, clips of Gold Dust are now available on German retailer JPC.
Thanks to Harry, Alfred, inka and roel for the links and such.