News: Toriphiles
Be sure to check out our other sections, Tour — where setlists and other concert-related material will be updated daily while Tori is on tour — and You. Lots of interesting stuff!
Thursday, August 21, 2014 | 09:48 UTC
| Posted by
Violet
|
Toriphiles
Get your creative hats on, kids!
As most of you are aware (or at least we hope you're aware), the Miami show on Sunday marks the final date of the North American leg of the Unrepetent Geraldines Tour. After that, we won't get to have any more setlist fun until Tori hits Australia in November (three whole months away!), and a good chunk of you won't be around for our live coverage then because the Oz shows will be taking place while most of you are either asleep or at work. So instead of having our big bash on the final-final date of the tour as we normally do, we're going to make Miami our big fiesta show, since woj and I will both be around covering it.
We put our heads together and we've decided you guys are going to help us turn our Miami coverage into … the UNREPENTENT GRATITUDE party! Yes, you guys are going to share your overflowing Tori gratitude with your fellow EWF all over the world. YAY!!! So put on your best party clothes and your thinking caps and help us make this virtual shindig a total blast.
RULES

Make a short video or create a picture (photo, drawing, graphic, painting, whatever you like) expressing whatever you've felt most grateful for this tour. Be as creative as you can, whatever you can dream up, the sky's the limit. Seriously, go wild.

Videos: keep them under 30 seconds, upload them to YouTube as unlisted, then email the link to this special address with "

VIDEO

" as the subject.

Pictures: email them as an attachment to this special address with "

PICTURE

" as the subject. Please let us know the name with which you'd like to be credited.
We'll sort through and choose the best of the best to share during our live coverage on Twitter on Sunday. Depending on how many submissions we get, we may not be able to include them all, but we'll fit in as many as possible. Once we have some idea how much (or how little) we're going to have to work with, we'll let you know what time we're going to be starting.
So do whatever you can to make your submission really stand out as entertaining and unique! Who knows? Tori might even see some of them.
Wednesday, May 28, 2014 | 00:58 UTC
| Posted by
woj
|
Toriphiles
Attention Tori-loving night owls of New York City! Need something to do this coming Friday? Well, look no further than cOver the Pink, a celebration of Under the Pink's 20th birthday brought to you by a place both wonderful and strange and Mixtape Media LLC.
The evening, which is a benefit for RAINN, will include live performances of songs from Under the Pink by a cadre of New York-based performers based by The Wrong Band with an all-Tori remix dance party deejayed by Matt Heart Spade to follow.
It all goes down at Glasslands Gallery in Brooklyn on Friday, May 30th at 11:30 PM. Tickets are $5 and on sale now via Ticketfly. For more information, check out the Facebook page for the show.
Sunday, May 18, 2014 | 13:55 UTC
| Posted by
Violet
|
Toriphiles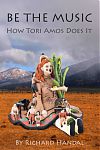 Richard Handal, a long-time Toriphile and participant in the online Toriverse stretching from its dawn back in the 1990s, through The Dent years, and onward to today, is writing a book about the intersection of art and music. Specifically using Tori Amos and her music as a model, Be The Music: How Tori Amos Does It aims to be a stepping stone to help everyone, from composers to performers to listeners, have a more fulfilling experience with musical art.
Richard is looking for help to allow him to finish the book and has listed it on the crowdfunding site Authr. Take a look at the project description, learn more about Richard in his bio on his blog, and help out if you can!
Wednesday, April 30, 2014 | 06:53 UTC
| Posted by
Violet
|
Toriphiles
We all know that Tori's a great songwriter, but is she the Greatest Songwriter Of All Time? Head over to Ranker.com to cast your vote!
Thursday, March 27, 2014 | 03:30 UTC
| Posted by
woj
|
RAINN
,
Toriphiles
Sanchez 2winz, the art duo of Raúl Sánchez & Rod Sánchez, is using their new track "Winged Painter," which includes remixed vocals by Tori Amos, to inspire a fundraiser for RAINN. They have produced a video for the song that will be premiered on March 31st and, if you make a donation to RAINN via their RAINNmaker page, your name will be included in the credits for of the video.
They've released a teaser video that, besides giving us a taste of what they have in store for the full video, provides a few more details about their campaign:
There are two days left in the campaign and they're getting close to their goal so please chip in if you can!
Thursday, January 09, 2014 | 05:12 UTC
| Posted by
woj
|
Cherries
,
RAINN
,
Toriphiles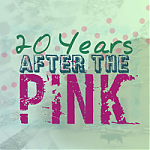 It seems like just yesterday, we were all talking about Little Earthquakes turning 20 years old but, after the riding Gold Dust's orchestral dragon in 2012 and floating with The Light Princess in 2013, it's 2014 and that means Under the Pink is nearing its third decade out in the world.
That anniversary doesn't come until the end of this month though, as The 405 observes, "Cornflake Girl" was released as a single 20 years ago this week in the UK. Still, any old-timer fans who remember waiting at a record store until midnight to buy the record on cassette or wailing and gnashing their teeth while trying to get through to Ticketmaster on the phone to get tickets for the tour have a few weeks to still feel young and carefree — assuming Little Earthquakes being old enough to drink hasn't already dashed those emotions!
However, the folks who brought you the 50 Years of Tori Birthday Bash are not waiting until the end of January to get this party started. Rather, they've launched 20 Years After the Pink, an ambitious online event that celebrates Under the Pink through an on-going dialogue about artists inspiring artists and art affecting its audience and raising funds for RAINN.
At the core of After the Pink is Marta Woodhull who had the great fortune to be in Taos during the production of Under the Pink. During that time, she created her own art — drawings, photography, writings — inspired by the creative process around her which she is now sharing them with the Tori Amos community, allowing us to explore how we have changed and been changed by this album, by looking back to its beginnings.
Come join the fun on their website where you can learn much more about the extravaganza, view Marta's drawings and photos, read about the making of Under the Pink and learn about their juried art show. Holy cow! So much stuff!
You can also follow along as After The Pink marches towards the album's anniversary on all the usual social media channels: Facebook, Twitter, Instagram, and Pinterest.
Thursday, August 29, 2013 | 02:31 UTC
| Posted by
woj
|
RAINN
,
Toriphiles
Belated congratulations to the three winners of the 50 Years of Tori raffle: Anne Convery, Kerry Frey, and Samantha Mehnert! All y'all won a whole lotta swag!
Kudos and congratulations to Tiffany, Natasha and Amanda for coordinating and pulling the whole shebang together! That was a mighty feat of catherding, we suspect.
Thanks, too, to everyone who kicked in! The original goal of $500 was smashed to smithereens by your generosity, with a final total of $3,500 being raised for RAINN! Whether you donated $1.00 or $106.58, every little bit helped and helps!
Thank you!
Wednesday, August 14, 2013 | 02:11 UTC
| Posted by
woj
|
RAINN
,
Toriphiles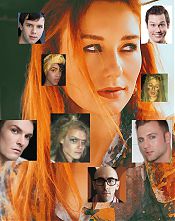 Live in or near New York City or going to be around the metro area this coming weekend? Looking for a fun and unique way to celebrate Tori's upcoming birthday? Well, look no further as Enid Ellen and singer/songwriter/pianist Greg Potter have got you covered with Raisin Girl: A 50th Birthday Celebration For Tori Amos, taking place at Joe's Pub on Sunday, August 18th at 9:30pm.
Along with fellow devotees Cole Escola, Nicholas Gorham, Dane Terry, Kim Smith, Erin Markey, Joseph Keckler, Brett Every, Natti Vogel, Dan Fishback, and B0DYH1GH, they'll be performing a range of Tori's songs in the intimate confines of The Public Theatre's posh night club and, as a portion of the night's proceeds will be donated to RAINN, raising some funds for a good cause as well.
For more information and insight, check out the event's Facebook page and this interview of Enid Ellen and Greg Potter by Adrienne Trier-Bieniek (whose name may ring some bells) in The Examiner.
Tickets are still available from the Joe's Pub box office.
Saturday, August 03, 2013 | 17:22 UTC
| Posted by
woj
|
RAINN
,
Toriphiles
While it has not been an entirely quiet summer of news on the Tori Amos front, we have managed to fall behind on what news there is for various, uninteresting-to-everyone-even-us reasons. That will be changing over the next few weeks as this summer draws to a close and we gear up for The Light Princess and all the hoopla that entails. However! There is one thing that can't wait for us to get our collective asses in gear and that is a RAINN fundraiser to celebrate Tori's upcoming 50th birthday.
Three of the Tori Tumblrverse superpowers — Amanda of Tori Songs, Natasha of All These Years, and Tiffany of Tori Amos Confessions — have joined forces and, with help from some well-known artists, newly-published authors, etsy craftspeople and arty friends, concocted a project to raise money for RAINN and maybe put a few interesting and unique Tori-related items into your hands as a little thank you for donating.
They have collected a number of items ranging from out-of-print CD singles to posters to necklaces to some exclusive items like a signed print by Paulina (Stuckey) Cassidy and a limited edition print by Scarlet's Walk photographer Kurt Markus. On August 22nd, at least three prize packages will be raffled off and anybody who has made a donation by then will be eligible to win one!
To make a donation, start at their RAINNmaker page which will link you to rainn.org to donate.
Whether you donate or not, you can contribute a birthday message to Tori via their tumblr. All the messages will be collected and shared on their site and wrangled into a video as well.
Tuesday, June 18, 2013 | 05:03 UTC
| Posted by
Beth
|
Toriphiles
Earlier this spring we told you about a new book on Tori and her female fans called "Sing Us A Song, Piano Woman" by Toriphile Adrienne Trier-Bieniek. Well, the book is out now and you can get your copy just about anywhere, including right here. If you'd like to try your luck at winning a free copy, enter Adrienne's Goodreads giveaway. And if you're on the fence but want to know more, check out this article from the Orlando Sentinel. Here's a quick snippet:
"In academic research, there's very little in pop culture realm that addresses gender and little or nothing about women's experiences as female fans," she says. "There's this image that is like the fanatical Beatles or One Direction fans, the screaming women who can't keep their clothes on. I knew from my experience that wasn't true."
She wants the book to inspire others to consider a more accurate vision of women.
"I hope that it contributes to a new conversation about gender and pop culture," she says.