News: Toriphiles
Be sure to check out our other sections, Tour — where setlists and other concert-related material will be updated daily while Tori is on tour — and You. Lots of interesting stuff!
Sunday, July 08, 2018 | 20:56 UTC
| Posted by
Violet
|
Toriphiles
Very sadly, we've recently lost two long-time Toriphiles: Cyndi Crawford (Ciara Raven Blaze @ciararavenblaze on Twitter) in February and Raven Rogers (Sweet Sailor @RavenTweetTweet on Twitter) in June.
We've known Cyndi since the mid-'90s when she joined the Really Deep Thoughts mailing list in her teens and she's been a dear friend ever since. Like many of you, we knew Raven from tours and meet & greets on the road and on the various Tori fan sites on the Internet as well. She, too, has been a good friend to us and Undented as well. Tragically, both have passed at very young ages and left gaping holes in the Tori community, in our hearts, and in the world. We're having a hard time processing this loss and miss them more than words can express.
GoFundMe pages to raise funds for their survivors and memorials have been set up for each of them. If you can, please consider helping out. Cyndi's is here and Raven's is here. We know it would be appreciated.
You have touched my life
So that now cathedrals of sound are singing
Are singing

The waves have come to walk with you
To where you will live in the Land of Youth
Land of Youth

You will not ever be forgotten by me
In the procession of the mighty stars
Your name is sung and tattooed now on my heart
Here I will carry, carry, carry you
Here I will carry, carry, carry you forever
— Tori Amos, "Carry"
Our deepest condolences to all of Cyndi's and Raven's families and friends.
~ woj and Violet
Saturday, November 22, 2014 | 15:00 UTC
| Posted by
woj
|
Toriphiles
,
Touring
Very nearly one year after it was announced, the tour supporting Tori's 2014 release, Unrepentant Geraldines, drew to a close this past week with the last three Australian shows: Perth, an all-request extravaganza in Sydney, and the final performance in Brisbane.
And what a year it has been! The release of an album widely acclaimed as a return to form! A whirlwind of promo from in-stores to in-studios to record shopping jaunts! Over 70 electrifying shows on a tour that crossed Europe, South Africa, North America and Australia! Covers, requests and mashups! An embracing of social media. Secret sonic selfies! Fashionable eye-wear! And the list goes on!
So, now that the tour has drawn to a close and we slide into the year-end holidays, cozying up with YouTubes and bootlegs from the tour, we just wanted to thank you all for following along with us. Whether you texted or tweeted setlists our way, videoed clips from the tour, freaked out with us when we got Züro Pünk'd, freaked out with us when Zero Point's time came, freaked out with us in general, or just quietly sat back and took it all in, we really appreciate you, our fellow Toriphiles and all you do.
P.S. Onwards to The Light Princess album! And, if you can't wait until them for more Tori goodness, keep an eye on Tori Songs as they are nigh unto announcing the results of 2014 Unrepentant Edition of the Top 50 Tori Songs poll!
Saturday, August 23, 2014 | 21:47 UTC
| Posted by
Violet
|
Toriphiles
Since we've gotten so few Unrepentant Gratitude submissions (and since it seems like a lot of folks misunderstood the purpose of the project: entertainment), we're extending the deadline until 5:00pm BST tomorrow. That's 12noon Eastern/9am Pacific.
We're just looking for fun, lighthearted entertainment from EWF around the world to make the Miami setlist a little more special than just song title after song title, which is what we normally do. So won't you consider drawing us a little picture or making a teeny-tiny short video, like the sort you'd normally post to Instagram, expressing something you've been grateful for this tour? Bonus points for silly!
So come on … can you help us make the Miami show extra special for the EWF who will be following the set online, many who haven't gotten to see a live show at all on this tour? Pretty please?
Friday, August 22, 2014 | 18:29 UTC
| Posted by
Violet
|
Toriphiles
The Unrepentant Gratitude deadline is about 26 hours away now, at 8:00pm BST has been extended to 5:00pm BST on Sunday (check what time that is in your region here.
Are you busy bees getting your gratitudes ready? They don't have to be epic productions, just just a short video or picture expressing whatever you've been most grateful for this tour in whatever creative, entertaining way you can come up with. Maybe you're grateful Tori signed your copy of LE, or that you made a new friend because of this tour, or Tori played a song you'd been wishing for for years, or you enjoyed tracking the virtual setlists, or … whatever. Sing, dance, dress up your dog, run in circles, do a finger painting, use puppets, express it however you like.
This is open to Toriphiles around the world, whether you've physically been to a show or not. So hurry, hurry! Specific guidelines here.
Friday, August 22, 2014 | 04:01 UTC
| Posted by
woj
|
Toriphiles
,
Touring
51 maybe not be as big a deal as 50 in birthday terms, but Tori's 51st year has been a significant one between the long-awaited run of The Light Princess, the release of Unrepentant Geraldines, and the subsequent tour — so there is much to celebrate! And celebrate we will on Friday as Tori celebrates her special day on the stage at Ruth Eckerd Hall in Clearwater!
As we alluded to earlier this week, the tour crew has formulated a plan…but it's still a bit of a secret as a certain someone (who undoubtedly will be suspecting something) isn't supposed to know. So! The plan will be explained by Trevor Moss and Hannah-Lou during their opening set. Get there early Friday to get the low-down on what's going to go down and please follow their lead so that Tori's first birthday show in a decade is as wonderful as it can be!
Thursday, August 21, 2014 | 10:48 UTC
| Posted by
Violet
|
Toriphiles
Get your creative hats on, kids!
As most of you are aware (or at least we hope you're aware), the Miami show on Sunday marks the final date of the North American leg of the Unrepetant Geraldines Tour. After that, we won't get to have any more setlist fun until Tori hits Australia in November (three whole months away!), and a good chunk of you won't be around for our live coverage then because the Oz shows will be taking place while most of you are either asleep or at work. So instead of having our big bash on the final-final date of the tour as we normally do, we're going to make Miami our big fiesta show, since woj and I will both be around covering it.
We put our heads together and we've decided you guys are going to help us turn our Miami coverage into … the UNREPENTANT GRATITUDE party! Yes, you guys are going to share your overflowing Tori gratitude with your fellow EWF all over the world. YAY!!! So put on your best party clothes and your thinking caps and help us make this virtual shindig a total blast.
RULES

This is open to all Toriphiles around the world. And you don't have to have physically been to a show to participate.

Make a short video or create a picture (photo, drawing, graphic, painting, whatever you like) expressing whatever you've felt most grateful for this tour. Be as creative as you can, whatever you can dream up, the sky's the limit. Seriously, go wild.

Videos: keep them under 30 seconds, upload them to YouTube as unlisted, then email the link to this special address with "

VIDEO

" as the subject.

Pictures: email them as an attachment to this special address with "

PICTURE

" as the subject. Please let us know the name with which you'd like to be credited.
We'll sort through and choose the best of the best to share during our live coverage on Twitter on Sunday. Depending on how many submissions we get, we may not be able to include them all, but we'll fit in as many as possible. Once we have some idea how much (or how little) we're going to have to work with, we'll let you know what time we're going to be starting.
So do whatever you can to make your submission really stand out as entertaining and unique! Who knows? Tori might even see some of them.
Wednesday, May 28, 2014 | 01:58 UTC
| Posted by
woj
|
Toriphiles
Attention Tori-loving night owls of New York City! Need something to do this coming Friday? Well, look no further than cOver the Pink, a celebration of Under the Pink's 20th birthday brought to you by a place both wonderful and strange and Mixtape Media LLC.
The evening, which is a benefit for RAINN, will include live performances of songs from Under the Pink by a cadre of New York-based performers based by The Wrong Band with an all-Tori remix dance party deejayed by Matt Heart Spade to follow.
It all goes down at Glasslands Gallery in Brooklyn on Friday, May 30th at 11:30 PM. Tickets are $5 and on sale now via Ticketfly. For more information, check out the Facebook page for the show.
Sunday, May 18, 2014 | 14:55 UTC
| Posted by
Violet
|
Toriphiles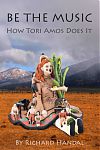 Richard Handal, a long-time Toriphile and participant in the online Toriverse stretching from its dawn back in the 1990s, through The Dent years, and onward to today, is writing a book about the intersection of art and music. Specifically using Tori Amos and her music as a model, Be The Music: How Tori Amos Does It aims to be a stepping stone to help everyone, from composers to performers to listeners, have a more fulfilling experience with musical art.
Richard is looking for help to allow him to finish the book and has listed it on the crowdfunding site Authr. Take a look at the project description, learn more about Richard in his bio on his blog, and help out if you can!
Wednesday, April 30, 2014 | 07:53 UTC
| Posted by
Violet
|
Toriphiles
We all know that Tori's a great songwriter, but is she the Greatest Songwriter Of All Time? Head over to Ranker.com to cast your vote!
Thursday, March 27, 2014 | 03:30 UTC
| Posted by
woj
|
RAINN
,
Toriphiles
Sanchez 2winz, the art duo of Raúl Sánchez & Rod Sánchez, is using their new track "Winged Painter," which includes remixed vocals by Tori Amos, to inspire a fundraiser for RAINN. They have produced a video for the song that will be premiered on March 31st and, if you make a donation to RAINN via their RAINNmaker page, your name will be included in the credits for of the video.
They've released a teaser video that, besides giving us a taste of what they have in store for the full video, provides a few more details about their campaign:
There are two days left in the campaign and they're getting close to their goal so please chip in if you can!